The Anti-Colic Bottle That Gives New Parents Peace of Mind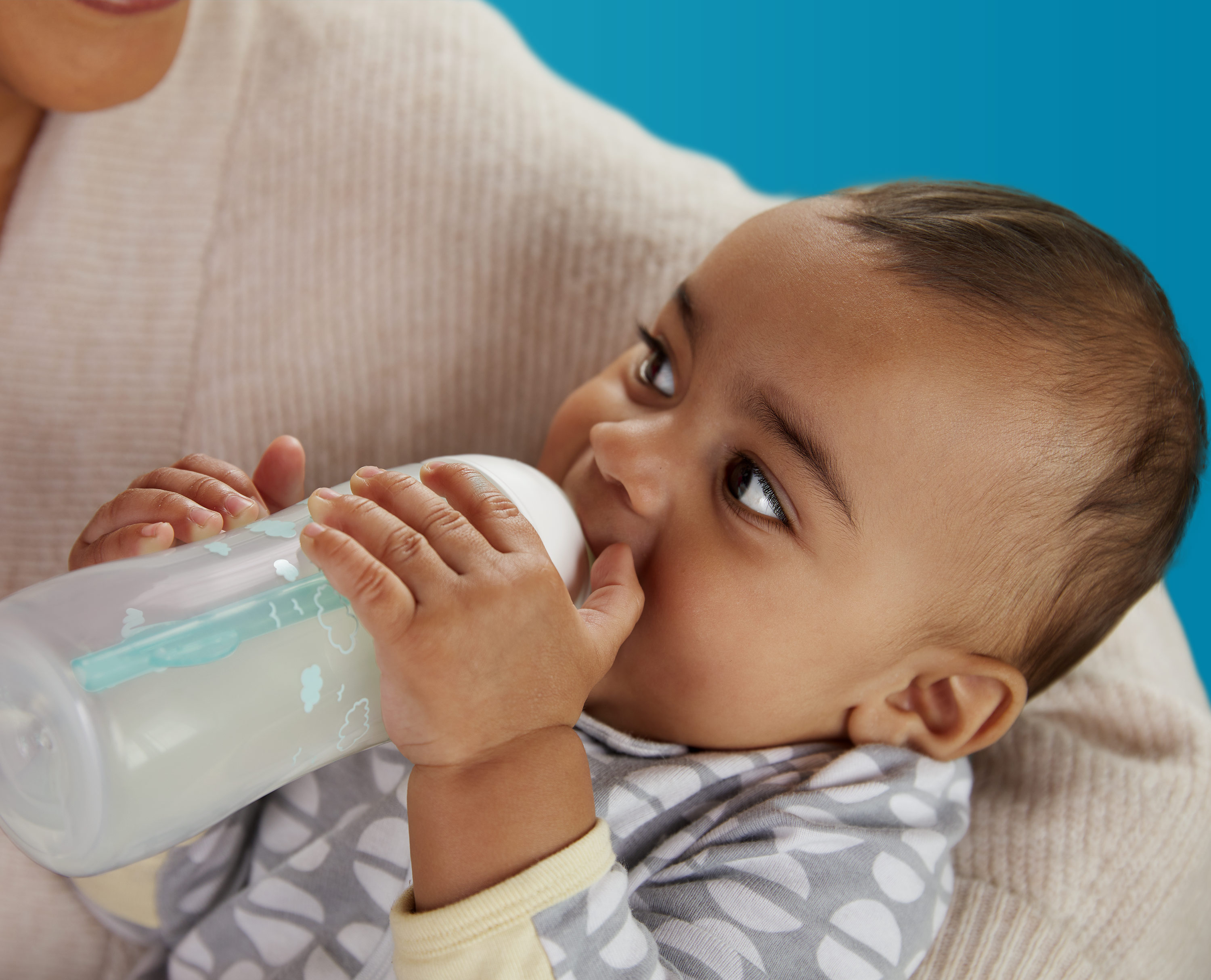 What are the best bottles for colic and gas? What bottles are best for breastfed babies? How do I pick the right newborn bottle set? With so many bottle options on the market, we know you have questions. Fortunately, we have answers with our do-it-all baby bottle solution.
It's true that finding the perfect baby bottles can be tough. Because when you're on the hunt for the best baby products for newborns, the journey doesn't end with picking the best newborn bottles. Nor are you good to go after choosing the best bottles for colic or slow-flow feeding from the top of a list. The search is only complete when you find a bottle that combines all of the most important features for newborn nursing.
Luckily, it's also true that you can't keep a good baby bottle down. Especially the NUK® Smooth Flow™ Pro Anti-Colic Bottle, which encompasses all these qualities and more.
But What Is Colic in Babies and Can My Newborn Be Affected?
As a new parent, you know that the best way to keep your baby happy and cared for is by decoding your baby's cries. But if your healthy baby is having intense and frequent crying fits, the methods you use when your newborn won't stop crying may go beyond simple calming techniques. Your little one could be displaying colic symptoms tied to the way they're being fed.
So, it's time to choose colic-free feeding instead. Our Smooth Flow™ Pro Anti-Colic Bottles help prevent colic, baby reflux, and extensive crying by reducing air bubbles within the bottle to provide baby gas relief. In other words, our infant bottles redefine what it means to be the best baby bottle to nourish the little ones you love most.
Did you know that signs of colic in newborns occur in a rule of 3s?
Your newborn may be showing signs of colic if they are consistently crying for: 3 hours a day, for 3 days a week, for a period of 3 weeks or more. So be sure to first consult with your pediatrician if you think your baby's symptoms meet this criterion.
What It Takes to Be a Super Bottle
When you give your newborn their nursing bottle, we know that it isn't just feeding time. It's also bonding time between baby and caregiver. That's why these newborn bottles ensure feeding goes as smoothly as possible, to keep you focused on what matters most.
Smooth Flow™ Pro bottles feature an elongated nursing nipple to ease latching, an anti-colic vent and unique airpath for colic-free feeding, and a milk flow that matches your baby's suction. With our unique one-piece nipple, we can guarantee this is the no leak baby bottle of your prep and cleaning dreams. Plus, never fear the burn of the milk test again—our built-in baby bottle temperature indicator tells you when the bottle is too hot!
We suppose you could say we've infused the best features of breastfeeding inside the best bottles for colic. So even if you're still working on getting a breastfed baby to take a bottle, trust that Smooth Flow™ Pro bottles will help your little ones latch.
The Anti-Colic Air Vent Bottles Save the Day (and Night)
Say goodbye to colicky feeds
We understand that it can be a struggle to find the best way to soothe your colicky baby and decipher which treatment will help your little one the most. If colicky feeding is the issue, your baby needs the best anti-colic bottles to banish air bubbles from their milk supply and help prevent colic pains.
Our Smooth Flow™ Pro Anti-Colic Bottle features an anti-colic venting system that reduces the amount of air your little one ingests for more colic-free feeds. The anti-colic vent in the bottle nipple releases pesky pockets of air as they feed. Meanwhile, the removable airpath insert prevents vacuum build-up during a continuous latching, reducing the build-up that can cause gas, baby spit-up, and a burping baby.
Think of this bottle as an anti-colic vent system that self-releases air as your baby drinks. This means our anti-colic baby bottles not only stop colicky feeding in its tracks, but they are also the best bottles for gas, burping, reflux, and spit-up, all in one!
Say goodbye to your little one's feeding discomforts with our vented bottles for simplified night feeds that are critical to your newborn's sleep schedule.
Getting Baby to Latch with a More Natural Milk Flow
Something that you should know about us is that we like to go with the flow—the milk flow, that is. When we set out to create the best newborn baby bottles, we knew we needed to develop bottles that mimic the way newborns breastfeed.
This is why Smooth Flow™ Pro baby bottle nipples let your little one control their own milk flow. Our specially designed nipple adjusts to your baby's suction strength—not the other way around—for a more relaxing feed. It's these details that make the baby bottle nipple size a perfect fit, and that make this bottle a premier baby bottle for newborns.
Because our Smooth Flow™ Pro feeding bottles can naturally adapt to slower suckles, the nipple makes it one of the best slow flow bottles for newborns during the early stages of nursing. Especially if the possibility of nipple confusion is a concern when alternating between a bottle and breastfeeding.
What is nipple confusion?
Nipple confusion is when a baby struggles to latch after transitioning from breastfeeding to bottle feeding. Your baby has a different feeding style when suckling a breast than a bottle nipple. So, you must first ask, "What bottles are best for breastfed babies?" To find out, try testing a slow flow nipple bottle for a smoother transition.
Never Fear, Our Easy-to-Clean Baby Bottles Are Here
As the adage goes, sometimes less really is more. Which is why we've reinvented the standard design of anti-colic bottles by creating one of our own with just 4 baby bottle parts for easy baby bottle cleaning. This design is notably less than the 6 pieces of the leading anti-colic bottle because you deserve easier cleanups.
Therefore, you can spend more time nurturing and feeding your newborn, and less time trying to figure out how to better wash baby bottles with your bottle brush. Or, if you feel like opting for fewer manual cleanings, our bottles are:
Dishwasher-safe on the top rack

Sterilizer-safe

Boiling water-safe
The point is that however you decide to give this baby bottle a thorough cleaning, we've got you covered.
A Baby Bottle Temperature Indicator That's Never Too Hot to Handle
At this point in parenthood, you likely know about the age-old wrist test and have shaken out milk onto your wrist to check your baby's bottle temperature. But did you know there's another accurate and more convenient way when holding a fussy baby to make sure the bottle milk temperature is perfect for your little one?
Our SafeTemp baby bottle temperature indicator shows you how hot your baby's bottle is at a glance. The convenient side indicator of this bottle thermometer fades within seconds when the milk temperature is too hot and reappears when it's safe to drink. We're not calling ourselves magicians, but it works like charm.
What temperature should a baby bottle be?
The ideal temperature for a baby bottle is around your natural body temperature of 98.6 degrees Fahrenheit, but this is more of a recommendation than a regulation. Depending on breastfeeding habits, the preferred baby's bottle temperature for your baby will vary.
Available in Different Baby Bottle Sizes and Bottle Designs
Every parent knows a baby product that gives you options is one you keep close by, and the best baby bottles for colic and gas should be no exception.
For the sake of options, our Smooth Flow™ Pro series comes in BPA-free bottle sizes and a variety of designs that you and your little one will love. Our silicone baby bottles come in two sizes: 5 oz. baby bottles and 10 oz. baby bottles. Don't forget to give our baby bottle sets a try, so you'll always have one on hand when you need it most.
Our Story Is About Helping You and Your Newborn Write Your Own
Nothing is more important to us than the health and happiness of a little one. It's why our NUK anti-colic bottles will have your back from the beginning of your parenting journey. Our collection of baby bottles for newborns, toddlers, and every stage in-between will always keep your infant's needs first.
Since 1956, NUK has been dedicated to the support of happy babies and happy parents. With our latest innovation in reducing colic, we continue the pursuit of keeping babies happy, because it's not simply what we do, it's simply who we are.