Airflow Glow-in-the-Dark Pacifiers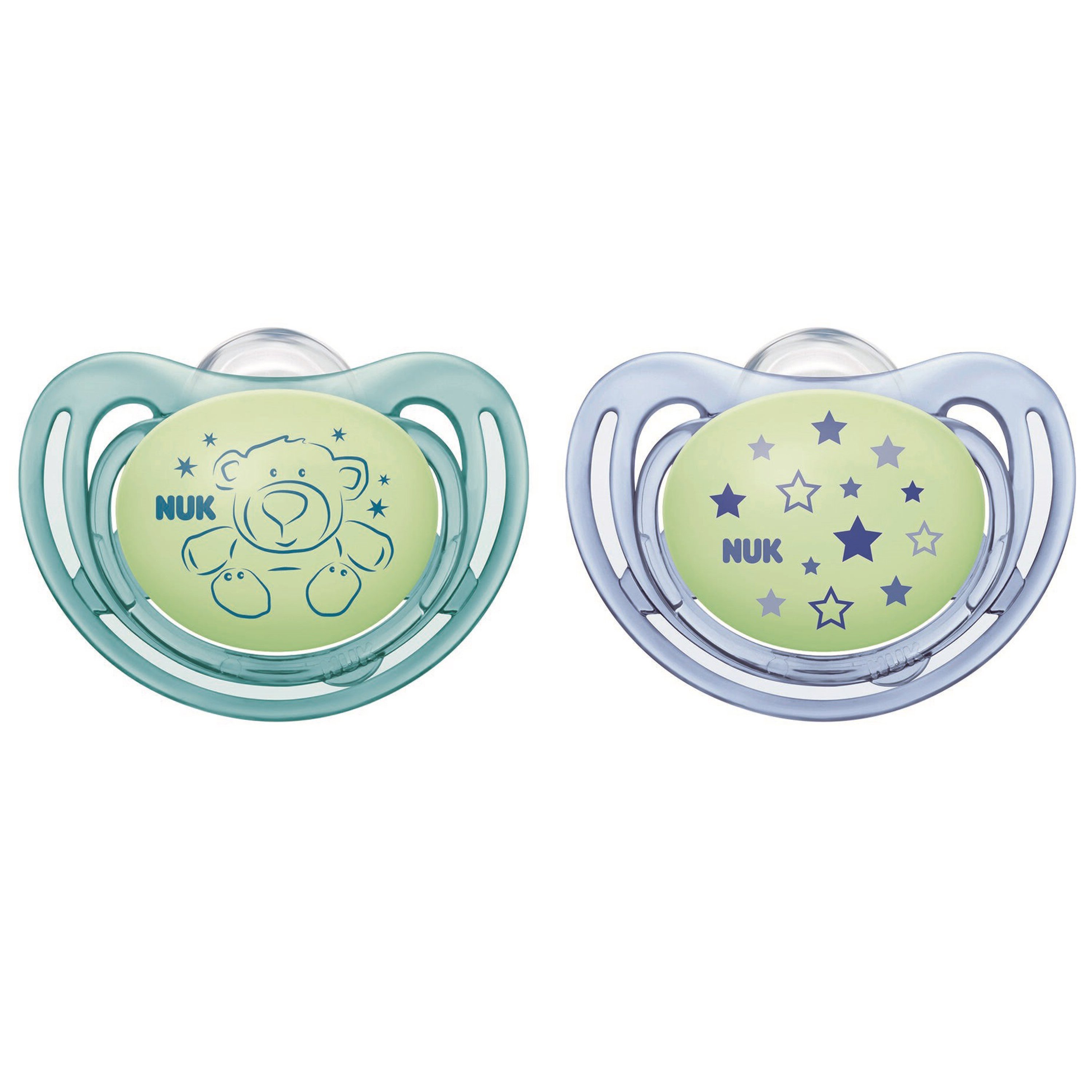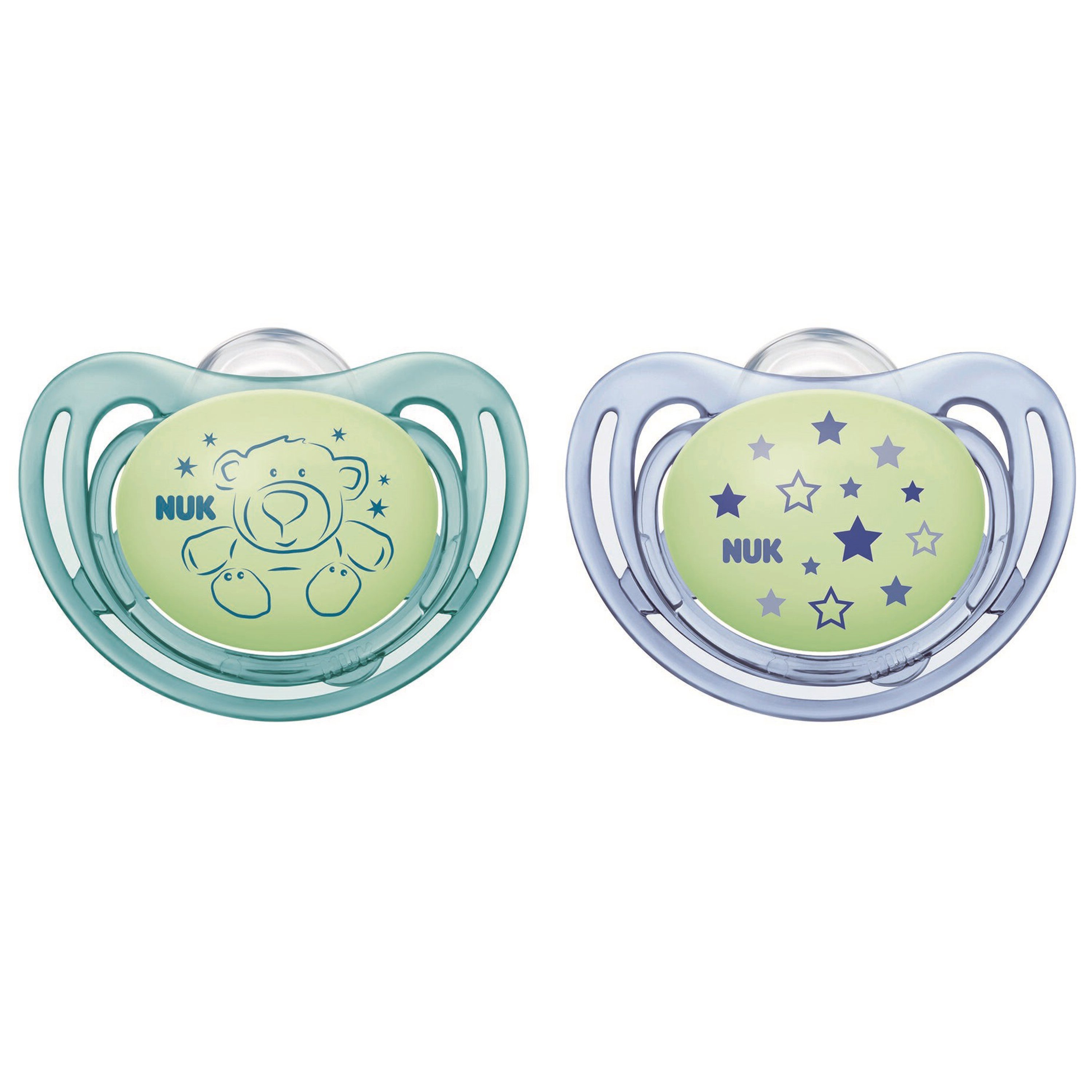 Airflow Glow-in-the-Dark Pacifiers
Final Sale: may not be returned or exchanged
Item currently not available.
Alert
Please select a Options.
Final Sale: may not be returned or exchanged
Product Details
Description
The NUK® Airflow pacifier's unique breast-like nipple is shaped to soothe baby just like mom. This makes for an easy transition from breast to pacifier and back. Invented over 60 years ago by pediatric dentists and doctors, NUK®'s unique orthodontic nipple shape helps promote healthy oral development. Airflow pacifiers' unique shape enables 3 times more airflow to prevent irritation on baby's skin. The NUK® heart-shaped shield fits perfectly under baby's nose for easier breathing and prevents irritation. Airflow designs feature a Glow-in-the-Dark button which allows parents and babies to easily find the pacifier at night if it falls out of the child's mouth. To activate the Glow in the Dark feature, expose the pacifier to light for two minutes until the button glows green.
Specifications
Material Type:

70% plastic, 30% silicone
Where to Buy
The following link will take you to a site outside of NUK.
Rated

5

out of

5
by
racheltheidiot
from
Picky babies accepted
I started my newborn boy and girl twins on Ryan and Rose pacifiers but they would not accept it, so I tired Phillips and Nuk and they accepted it immediately and I am so glad they have 6-18 month version of this. I love the theme and that is glow in the dark so it is easy to find at 2 am. 10/10 would recommend.
Date published: 2020-12-12
Rated

5

out of

5
by
Nester
from
Anazing
I bought the girl version. But everyone had told me to get the avent soother pacifiers but my daughter did not like them she couldn't keep them in her mouth. And I new right away what style would work best for her. And I had read about nuk being the best for ortho so I decided to give it a try. As soon as I gave it to her she held on to it. And since we only give it to her at night and when she's sick is has been awesome since she got her vaccines yesterday and she feel better and calm when sucking on it.
Date published: 2016-03-31
Rated

5

out of

5
by
emeraldzmon
from
Love Nuk brand!
We received this pacifier as a promotion. So far my son loves it! We have been using Nuk brand products since he was born and it's the only brand he likes. I like the improvement on the shape, it fits more flush to his face. Also, so far water has not gotten trapped in the nipple after cleaning unlike other pacifiers we've used. The only complaint I have about the product is that the plastic puller part seems a little thin and flimsy although so far it has held up multiple times in the dishwasher.
Date published: 2016-01-06
Rated

4

out of

5
by
Garnetpixie
from
Great for the stroller
I bought this several months ago and my baby liked sucking on it, but preferred the all silicone ones. The hard part made it uncomfortable for him to suck on while in a baby carrier, but it was fine for the stroller.
Date published: 2016-04-20
Rated

5

out of

5
by
Jakes mommy
from
Great design!
My baby loves these and leaves no mark with air flow design . No more irritation or rash from drool as ait is vented through sides allows skin on babies face to breathe! Happy baby means happy mom!
Date published: 2017-04-08
Rated

5

out of

5
by
Corilea
from
This product is amazing. My daughter won't take any other pacifier except her nuks. Wouldn't go without!! Always have a few on me in the car and diaper bag!!
Date published: 2016-04-19
Rated

5

out of

5
by
Leighanne
from
The only pacifier my daughter would touch!
We went through every pacifier there is and this is the only one my daughter would take and I'm so greatful she did! They are cute and do the job!
Date published: 2017-04-04
Rated

5

out of

5
by
junebug2630
from
Bright colors and excellent design
I bought one of these for a friends shower and fell in love with them. My kid refuses all other pacifiers. So I had to go out and buy more.
Date published: 2016-04-21
Rated

5

out of

5
by
SmartMomma
from
Baby, Momma, and Dentist approved
I have had to pleasure of using this pacifiers with my youngest 2 babies. As a nursing Mom getting baby to take a pacifier and not mess up nursing is key and I can not tell you how wonderful and useful the glow in the dark feature is!! Both babies learning to find the pacifier in their crib by 7 months and any momma whose got up 1000 times in the night just to find the pacifier will tell you just how amazing that is! Plus their pediatric dentist approves :)
Date published: 2020-05-23
Rated

5

out of

5
by
AlishaHenry21
from
Wonderful
I really like these pacifiers! I love the air vents! They are larger and there are more of them, which is safer in my opinion! The styles we got are a train and colorful diamonds! They are really cute and stylish! The only think I would change is the "handle." I understand it's small to accommodate the larger air venting, but it makes it difficult to grasp. However, this smaller feature would in no way deter me from purchasing these pacifiers in future.
Date published: 2016-01-02
Rated

5

out of

5
by
HondaMom15
from
Great new product!
I have three daughters that have used "nu nu" as well call them after the Nuk brand. I wish these were invented sooner!! :) we love the air flow because while teething children tend to drool a lot and with the ordinary pacifier the moisture would cause redness around their mouths. The new air flow allows the moisture to dry so no more chapped lips! Thank you Nuk for the opportunity to try your great new product!! And the design on them are so cute!!
Date published: 2016-01-15
Rated

5

out of

5
by
Mluna18
from
Love love
I bought these pacifiers 2 months ago for my baby she was having difficulty with other pacifiers they would always fall so we decided to buy her these and these are so much better in many ways first of these pacifiers stay on her mouth they are so easy to clean and my baby loves them.I would definitely recommend this product for any mommas out there.My baby likes that they also glow in the dark great product for a great price.
Date published: 2021-06-27
Rated

1

out of

5
by
Mom987
from
Same old style
I was hoping for more of a variety of designs on the pacifiers but there truly isn't anything, this is the only pacifier my daughter will take so it's disappointing seeing all the other cute designs on the other pacifiers that we can't use.
Date published: 2018-12-23
Rated

4

out of

5
by
Alazae
from
Great but.
I recieved free samples of Airflow pacifiers. Or should I say baby boy received the free samples. Ha. My son is teething at the moment, so he rapidly grabbed the pacifiers. He loves them!! I do notice that the sensitive skin around his mouth isn't trapped in like other pacifiers. He seems to enjoy the freedom. Only thing I don't like is that you have to microwave them in order for them to glow.
Date published: 2019-12-18
Rated

5

out of

5
by
MissBottleBaby1978
from
NUK Pacifiers
These NUK Airflow Pacifiers provide enough room & air, so there is no irritation at mouth of my little ones. So its not tight towards their mouth & is comfortable & with ease of them sucking on NUK. Provides easy breathing. Also the designs they seem to like. Great NUK Pacifiers. I received these NUK Pacifiers for free in exchange for a review. All opinions are 100% my own.
Date published: 2019-12-29
Rated

5

out of

5
by
audpaud55
from
No more chapped chin!
My daughter loves her Nuk pacifiers, but in the winter we end up with a chapped chin. This pacifier has a airflow vent right under the bottom lip to help prevent her chin from chapping. We've been using them for 2 cold weeks now and no sign of chapped chin! Yay! I love that it's the same great Nuk shape, only better! Not to mention they are adorable in their little mouths!
Date published: 2016-01-01
Rated

5

out of

5
by
Rebecca24
from
Best paci!
I love all Nuk pacis but these are by far by favorite and if I find a pack at the store I snatch them up because they are hard to find in my area! These pacis don't leave a bad red line around my little ones mouth. Plus, it is easier to get water out of the nipple after washing. I also personally like the look of these better than the normal Nuk pacis. Love these!!
Date published: 2016-04-01
Rated

4

out of

5
by
Natroman
from
They're cute
I had forgotten my babies usual pacifiers so I bought these at target they're so cute and my daughter seems to like the shape of it only thing I didn't like too much was the hoop it has its plastic and cylindrical and the edges where it's sealed together seem to snag on clothes or blankets so I'll be sticking to the other pacifiers from Nuk that she likes
Date published: 2016-03-30
Rated

5

out of

5
by
Jenna17
from
Amazing & Stylish!
We got these as a baby gift and they are by far the favorite! Some pacifiers you question if they are really safe or doing their job. These you don't. Not only does the little one love them, they are reliable, and you can tell thought really went into making these especially for the little ones. Plus how can you not love the cute designs! Very pleased!
Date published: 2016-04-02
Rated

5

out of

5
by
wake1985
from
Easy to find
The Nuk Airflow Pacifier that I received in order to review it is great. I was able to give it to my infant and he was able to transition back and forth from his normal pacifier to this pacifier seamlessly. This pacifier will continue to be used and is great. The glow in the dark feature is an added bonus and allows us to find it quickly at night.
Date published: 2019-12-19
Rated

5

out of

5
by
chants
from
It GLOWS in the dark!
I received a 2 pack of NUK Airflow Pacifier with Glow samples to review and overall I loved them and so did my little one. He took it easily and kept it in his mouth right away. He also liked playing with the pacifier and there were some nights where I was able to easily find it in the dark because it was glowing! I'd highly recommend these!
Date published: 2019-12-31
Rated

5

out of

5
by
Cnicole
from
Great and cute little pacifiers
I received the NUK Airflow Pacifier with Glow SZ2 2pk free to review. These pacifiers arent only cute but they are the only pacifier that my baby will take. They are very well made and stand up to constant use very well. I would definetly reccomend to mothers who are looking for a pacifier that your baby will love and continue to use.
Date published: 2019-12-15
Rated

5

out of

5
by
Jbode
from
Best products
I got this for my baby. And it is the only pacifier and bottle she will take. I love all the pacifier and bottle designs. They are the best. I just wish I could find them at more places. I have the hardest time deciding what designs to gat cause all of them are so cute. My baby even tries to hold the bottle when we are feeding her
Date published: 2016-04-06
Rated

5

out of

5
by
Gammy05
from
The best pacifiers
I am a grandmother of 5 and am very knowledgeable on products that are the very best for all my grandchildren. The pacifiers are the very best and start the children of right with nuk , 0-6 months. This is just the beginning of using the best, I buy toys, bottles, sippy cups.....and would not even consider any other brand!
Date published: 2016-03-31
Rated

4

out of

5
by
aviweinryb
from
Essential product
I received this product as a free sample to review. I found the NUK Airflow Pacifier with Glow to be an essential product in my routine. I am always misplacing pacifiers and this one is easy to find in the dark. The design seems to be very comfortable for my child and I'm relieved at how easy it is to clean.
Date published: 2019-12-17
Rated

5

out of

5
by
Lauren DD
from
Unique baby designed pacifier
I highly recommend this product to all mothers. It has a unique shapped design and is easy for baby to hold in its hand. Also the glow in the dark and lightweight shapped pacifier is easy to keep up with. There is no other product like this one. So dont waste your time shoppong around and buy this product!!!
Date published: 2019-12-20
Rated

5

out of

5
by
Sweetkissesk
from
Baby loves these
I know that babies have a preference when it comes to bottles and pacifiers. My kid loves these. Has to have one in the mouth and then one for each hand. These are easy to find when it's dark or in the vehicles. I do wish that y'all still made squeaky pacifier, them were my favorite as a child.
Date published: 2021-06-30
Rated

5

out of

5
by
momcares
from
Great Product
I received this free sample of Nuk Airflow Pacifier with Glow Sz2 2pk to review and my baby enjoyed it. She had issues pacifiers and didn't like using them, but she enjoyed this pacifier. I am a happy mother now and lots of quiet time for everyone. I would recommend this pacifier to everyone
Date published: 2019-12-18
Rated

5

out of

5
by
Kiki050117
from
Love them
We have been using Airflow Glow-in-the-Dark Pacifiers for months now and my little one loves them. I love them because they stay in her mouth as well as keep her from breaking up in a rash due to the drool they are awesome for night time because it easier to find in the middle of the night
Date published: 2021-06-27
Rated

5

out of

5
by
jls0221
from
Satisfied child
I received this product in the mail to try an wasn't sure if my daughter would take to them or not. I broke them out an gave her one an she took rite to them an now uses them on a regular basis. Love how it fits her face unlike other I've used an they take up her whole mouth an face.
Date published: 2016-01-14
bvseo_sdk, dw_cartridge, 18.2.0, p_sdk_3.2.0
CLOUD, getReviews, 0ms
reviews, product
product-detail-view
oos-pdp